Sidley Diamond Tool Company produces high-quality PCD and CBN hard turning inserts for the high-performance turning of hardened steels.
---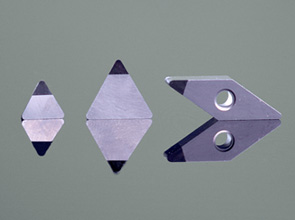 Hard part turning is superior to past finishing processes for hardened carbon steels, alloy steels and tool steels.
The past method of grinding was less efficient and cost-effective. It has since been replaced by the now industry standard method of using specialized PCD and CBN inserts to execute hard part turning, which deliver superior productivity and environmental benefits.
What Makes Hard Part Turning the Superior Choice?
Reduced production times
Lower machine investment costs
Coolant not required
Easier swarf handling
Potential for chip recycling
Increased process flexibility
Fewer energy requirements
---
To discover if a PCD or CBN hard turning insert can improve your product and boost your profits, contact us today to discuss your goals and receive a free quote.