Since the late 1950's, Sidley Diamond Tool Company has been manufacturing high-quality PCD and PCBN tools.
---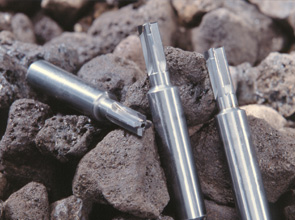 Using advanced manufacturing techniques, and with the help of experienced tool engineers, Sidley can produce PCD, PCBN and other tools in hundreds of shapes and sizes.
PCD Inserts
PCD inserts are widely replacing traditional Carbide cutting tools, due to the high potential for superior cost-effectiveness (when the correct form of polycrystalline diamond material is selected and machining conditions are met).
Some of the major advantages of PCD inserts include:
Improved cycle times and additional parts per shift are achieved through high material removal rates.
Increased speeds and feeds when compared to traditional cutting tool materials.
Tight dimensional control and excellent surface finishes.
Reduction in scrap and superior workpiece quality.
Reduced need for replacement equipment by improving machine tool efficiency and production capacity.
Choosing the optimal grade of PCD tooling for your specific application is crucial to achieving the highest level of efficiency possible. For example, fine grade PCD tooling features smaller diamond particles in comparison to coarse-grade inserts. Choosing a fine-grade PCD tool will result in a sharper cutting edge, providing a superior finish. The trade-off is reduced tool life. At Sidley Diamond Tool Company, we custom-design and manufacture all of our PCD tooling to fit your unique needs and will provide you with a quote that includes a recommendation for the ideal PCD product for you.
---
PCBN Inserts
PCBN inserts are ideal for use in a number of applications, specifically in working with hard cast iron, soft cast iron, sintered iron, superalloys and other hardened steels that have at least a 45 Rockwell C hardness rating. The increased particle size featured on PCBN tooling provides superior wear and impact resistance, which is important for withstanding the racks, sand inclusions and other interruptions left by the casting process.
One of the largest beneficiaries of the advancement of PCBN insert technology is in the area of hard turning in the automotive industry. With the use of PCBN for finish turning of steel alloy and automotive engine components that have high hardness rating (between 60 and 65 Rockwell C), you can get similar or superior results with a CNC lathe at half the cost of having used a CNC grinder.
General Application Guidelines for PCBN Inserts
Use PCBN tools to machine non-ferrous metals and nonmetallic materials only.
Ensure that the machine has sufficient rigidity and use rigid tool holders and fixtures.
When PCBN replaces cemented tungsten carbide, start with the same tool geometries.
When replacing conventional diamond tools with PCBN tools, increase the rake angles and use the same machining conditions.
Whenever possible, machine wet with PCBN tools.
Establish a criterion for tool life and change tools as soon as that point is reached. (Do not continue to run PCBN after they have lost their sharp edges.)
To improve surface textures of machined surfaces, our PCBN tools come standard with polished rake faces.
---
To find out if PCD or PCBN Inserts from Sidley Diamond Tool Company will improve your product and profits, contact us today to discuss your goals and receive a free quote.